Billionaire entrepreneur, Richard Branson, has cheated death numerous times while carrying out his high-profile publicity stunts, but what made him so nervous about going on stage?
CrowdInk interviews Sir Richard Branson's Australian events promoter, Michael Lane, Success Resources' Managing Director, to get to know the backstage Branson.
What is Richard Branson like before he goes onstage?
It's mid-September, back in 2010, I'm backstage at the old Sydney Entertainment Centre, and it's the first time I ever met Sir Richard Branson. After a few pleasantries, he nervously asks how many people are out there in the audience – I say; just over 7,000.
The blood quickly evaporates from his face; I thought 'surely the most charismatic billionaire of this era, known for doing life-threatening stunts to promote his brand isn't nervous.' Then he turns around and says, 'we are going to need to do some shots.'
I think he was nervous because it's quite unusual for any entrepreneur to be in front of 7,000 people. They will usually do a luncheon with a hundred people but being in front of thousands of people is a bit different.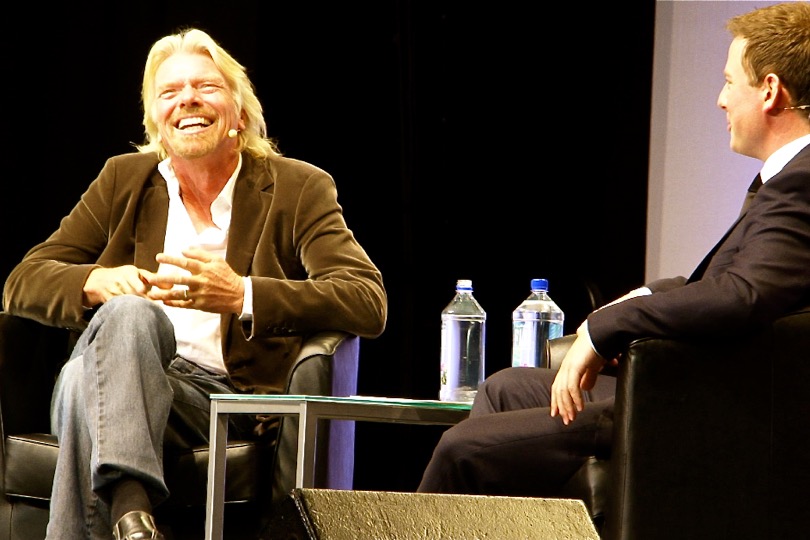 When was the last time Richard Branson was here in Australia with Success Resources?
The last time Sir Richard was here with us was in in 2015. We've always stayed in contact and every couple of years we try to see if we can make it work.
Luckily, his work with his charity and his schedule all lined up this year so we're bringing him back in November for his Australian Tour, Inspire and Succeed.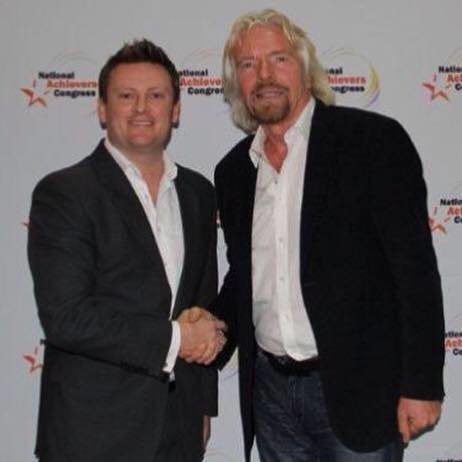 What does he talk about during these events?
It's all about being an entrepreneur; starting a business, the psychology of getting through the hard times, having resilience and grit.
You've known him for almost 10 years now, what do you admire most about him?
He has many admirable qualities. But what I love about him is how he delegates opportunity. He has the attention to get these amazing deals and he wants to create opportunities for people to run it.
That's why, as an entrepreneur, he gives importance to finding a great team. When he sees a great opportunity, the very first thing he says is: who do I know who can run this company? If he does not find a CEO with a great track record and one that's suitable to run it, he won't push through with that opportunity.
Before I listened to him and read all his books as an entrepreneur, I wanted to control everything in business instead of delegating it to the team who I hire because they are experts in their field.
Let's talk about how he got 'attention' in the early days of Virgin Group.
He performed stunts like being in a hot air balloon or jumping out of a plane to gain media attention. If the stunt was potentially dangerous or controversial, the media might pick it up. Because, back then, attention was on all the (traditional) media.
I know for a fact he doesn't enjoy the stunts.
So, what does he enjoy?
I'm not sure about what he likes doing during his downtime. But I have a surprising anecdote about him.
He always stays in just a double room in a hotel in the East Sydney area. There's a chance his airline crew will be staying there too, and he will shout drinks at the bar.
I've seen it in our last event where he came in a bit tired because he had a few drinks with his employees the night before!
Why do you think he does it?
Think about this: you are crew and you've just stepped off your Virgin Australia flight and you get a message saying, 'Richard wants to meet you at the bar at 10:00pm' and Richard will be there talking to eight to ten people.  What happens to those employees who are sitting with Sir Richard? They go home to their families and say, 'My god, I just had 3-hour chat with Richard Branson.' They'll become connected to the brand and the culture of Virgin more. They're probably going to stay with the company longer.
Gary Vee talks about this too. He calls it 'scaling the unscalable' which means you go out of your way to do something that can't be easily replicated by someone else and that people will truly value.
Sir Richard Branson will be speaking live at Success Resources' ',Inspire and Succeed' event in Sydney and Brisbane this November.
Find more about attending here:  http://bit.ly/CrowdInk_IS