The New Year is readily approaching and, with that, comes a brand new wardrobe. While many of your old pieces from last summer can be easily reused in 2017, it's time to start catching up with what's in now, and give your wardrobe a few well-needed updates.
Here are 5 trends that you should be trying out over this fashion season.
Mules and slides
Gone are the days of complicated straps and annoying buckles on sandals. This summer, get ready to boast a simple slip on shoe. It seems only logical that throughout the hot, sweaty days, you have a shoe that gives you the freedom and ease you need.
Look to embracing a simple, single strap slide that's easy to slip in and out of. For a more formal look, go for a thick strapped black slide, and for your summer beach trips, try a tan or rose gold with a more relaxed, loose fitting strap.
Mules will be a great option when you're going from day to night. Most feature a thicker, shorter block heel, meaning you can rock them on any surface and won't be limping in discomfort after a few hours.
Off the shoulder and detailed sleeves
Off the shoulder has been a big winner over the past year, with most major brands releasing their own take on the look. While off the shoulder has traditionally featured a simple, short sleeve, the current trend to watch out for is a billowing, detailed sleeve.
The more dramatic the sleeve, the better. So look for bell-sleeves, complex hems and ostentatious ruffles to give yourself that stand-out look. Pair it with a simple pair of shorts or jeans to keep the focus on the sleeve's detailing.
The Clear Heel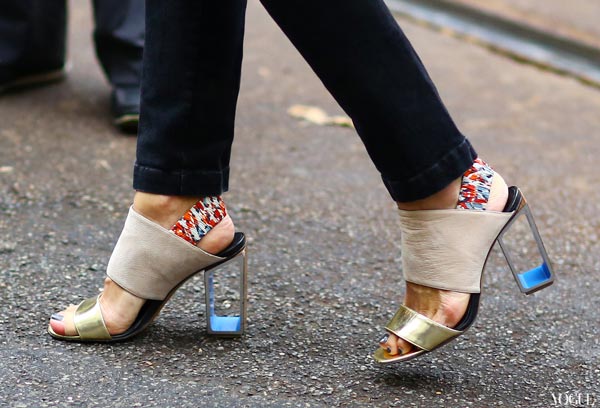 Made famous through the Yeezy collection, this completely clear, plastic strapped shoe has become a huge must have. The simple design is supposed to give the illusion of an invisible heel, while the clear plastic straps keep you well supported in the tricky trend.
While some find the look a little strange, there's no doubt the design is making its way through mainstream brands. A clear heel is great option for a simple, yet "stand-out" shoe you're able to pair with nearly anything.
The Pyjama Set
Another look that's causing a stir. Basically, it's what the name suggests; a set that features a relaxed pant or short and a button down shirt, all in loose fitting material with a matching pattern or colour.
Many relish in the idea that they can now leave the house in a cosy pyjama set without getting odd looks from strangers. It's cosy, easy and super on trend among fashion bloggers and influencers. So for those who love to feel like they're always ready for bed, give daytime PJs a go.
Flare denim with frayed hems
While we thought flairs were truly done for after the fiasco of the noughties, they are, in fact, making a comeback with a new, more refined look.
Denim companies are embracing a kick flair design for 2017, featuring a high waist, a cropped cut off and an ever-so-slight flare. Un-seamed and fraying hems are also featured in the recently popular design, which work great teamed with a classic heel to create that great street/smart contrast.
So why not start your 2017 strong with some of the most popular looks of today? Treat yourself, and give these latest trends a go.