Pinterest is the go-to website for some food inspiration with mouth-watering dishes and easy to make recipes.
And now you can easily create the most loved recipes with Pinterest crowning the winners of its food awards.
The team behind Pinterest UK hosted its first ever 'Best of Pinterest Food Awards' to find the ultimate recipes. There were twelve categories including best Sunday lunch to best recipe for kids.
So without further ado, here are three of the winners which will have you cooking up a storm in no time!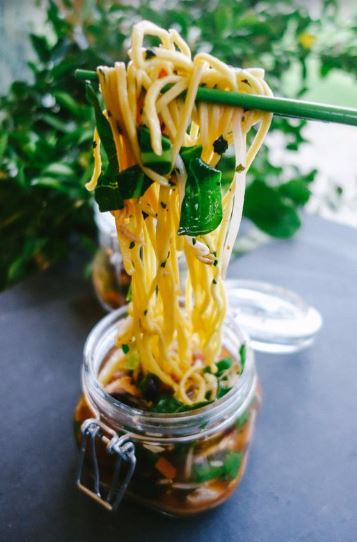 BEST GO-TO RECIPE: TRAVELLING NOODLES
Makes one pot
Ingredients:
1 handful of dried noodles (try zero cal noodles if you want to be really good!)
1 handful of mixed asian veg
1 handful of left-over cooked chicken / cooked prawns / tofu
Half handful of bean sprouts
1 spring onion
1tsp fresh or dried coriander
1tsp hot sauce (I like Sriracha)
1tsp miso paste
1tsp bouillon/stock powder (make sure it has no MSG)
1tsp tom yum paste (optional)
1tbsp soy sauce
Method:
1. Cook your noodles according to the package. When they're done, pop them into the bottom of your pot. Flatten them in and make sure they're nicely spread out. Leave to cool.
2. While the noodles cool, make your taste paste. In a small bowl mix together your miso, bouillon, soy, tom yum paste, as much hot sauce as you fancy. Even if you don't like spicy stuff, just add a little. It gives the soup a great bite and boots your metabolism up a gear. When your pots are nice and chilled, add your sauce.
3. Pile in your chosen meat. Use whatever you fancy, but make sure it's cooked.
4. Pack in a handful of sliced veg and bean sprouts. Top with sliced spring onion. Sprinkle in your coriander, I didn't have any fresh so used dried.
5. Then they're done! They keep for a few days, so you could always make a batch of them for the week ahead. When you're ready to chow, boil the kettle and pop open your pot. Pour boiling water in, until the top veggies are swimming. Seal the pot and leave it for a couple of minutes. Mix and eat!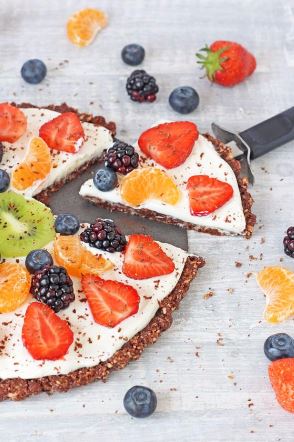 BEST RECIPE FOR KIDS: HEALTHY NO BAKE CHOCOLATE FRUIT PIZZA
Serves 10
Base:
1 cup whole almonds
15 whole dates (with stones removed)
2 tbsp coconut oil (melted)
1 tbsp unsweetened cocoa powder
1 tsp vanilla extract
Fruit topping: Strawberries, kiwi, clementines, berries or any fruit or your choice, all chopped.
Filling:
4oz cream cheese
3oz greek yogurt
½ tsp orange juice
¼ tsp orange zest
¼ tsp vanilla extract
Method:
1. First up make the base by blitzing the almonds in a food processor until they have broken down into a fine consistency, almost like almond flour. Add the dates, melted coconut oil, cocoa powder and vanilla extract and continue to blitz until the dates have been finely chopped and everything is well combined.
2. Press the mixture into a springform tin or tart dish and place in the fridge for an hour to set. If you don't have much time then you can put it in the freezer for 15 – 20 minutes.
3. Make the filling by mixing the cream cheese, greek yogurt, orange juice and zest and vanilla extract together in a bowl. Now spread this mixture onto the top of the pizza base and then decorate with the fruit topping of your choice.
4. Serve immediately or store in the fridge for a couple of hours until you are ready to eat it!
BEST SUNDAY LUNCH: SPICED BUTTERFLIED LEG OF LAMB
Serves 6
Ingredients:
1 x 2kg leg of lamb, butterflied (see below)
1 x 170g tub authentic Greek yogurt, to serve
For the marinade:
50g butter, melted
2 tbsp olive oil
2 tbsp ground cumin
2 tsp ground coriander
2 tsp paprika
1 tsp smoked garlic powder or garlic salt
1 tbsp chopped fresh thyme
juice and zest of 1 lemon
2 tbsp sumac
a pinch of chilli flakes
½ x 28g pack flat-leaf parsley, leaves only, chopped
1 x 28g pack mint, leaves only, chopped
Method:
1. Mix the butter and oil then stir in the rest of the marinade ingredients. Season with black pepper. Place the lamb in a shallow dish and spoon over the marinade. Rub it all over the meat. Cover; chill overnight. Remove from the fridge 1 hour before cooking.
2. Light the barbecue and, once hot, add the lamb, fat-side down. Cook on a high heat for 5 minutes until golden. Turn and cook for a further 5 minutes.
3. Move the coals to reduce the heat and cook for 30-40 minutes, turning occasionally. Rest for 10-15 minutes. Slice thickly; serve with Greek yogurt.
How to butterfly a leg of lamb:
1. Find the place where the long bone running down the length of the leg appears close to the surface.
2. Cut the meat away from either side of this bone.
3. At the fat end of the leg, there is a smaller group of bones. Continue to cut the meat away until you can lift the bones out, leaving a piece of meat shaped like a butterfly's wings.
4. Trim off any excess fat and cut open any thicker areas of the meat so that it's an even thickness of about 4-5cm throughout.