If anyone knows how to grow a business from nothing, it's Leanne Bennett.
Her Artistry of Makeup Academy (AMA) found its roots in a small room above a Sydney pub, where Leanne would teach working women the tips and tricks she learnt during her career as a freelance makeup artist.
21 years later, Leanne has grown the Academy into a fully fledged makeup mecca. It now offers a range of nationally recognised face-to-face classes and online courses to makeup lovers across Sydney and beyond, providing mums and working women with the chance to explore their passion and develop a successful side hustle or full-blown business.
CrowdInk was lucky enough to chat to Leanne about all things makeup, business and empowering women to take charge and become their own boss.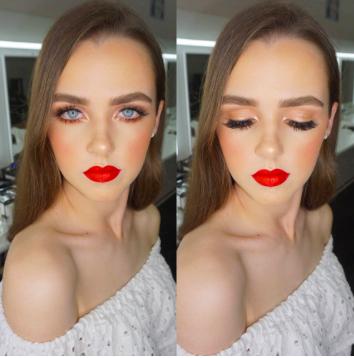 What was the inspiration behind your business?
As a young mum, I needed to find a career that worked around my four young children and being a makeup artist focusing on weddings and special occasion clients gave me that flexibility. I didn't know at the time how important that would be until later in my life, when I became a single mum! Juggling work and family was even more important, so having the ability to make hundreds of dollars from just one day's work rather than an entire week's worth saved my family and I. Today, what gets my team and I out of bed every day is inspiring and empowering women to take charge of their lives. We have mums or working women who are looking for a career change or maybe just a side hustle to generate extra income on the side. It's so important to us that we give women this opportunity to be their own boss and have choices in life!
How did your business get started?
After building my own freelance makeup business, I wanted to share my success and teach others how they too could have a flexible career. So, I hired a room for $40 a night above a pub, advertised in the local paper and started teaching. I started the business with nothing – I didn't go into debt or have a fancy premises straight off the bat, it was slow steps of growth. That was 21 years ago! Today, we have the Academy in Merrylands for our face-to-face classes with enrolment intakes multiple times per year as well as online courses.
Tell us a little bit about your business – what are the products and services you offer?
We train people with a passion for makeup to study professional makeup techniques and skills and equip them with business building and marketing knowledge so they can be successful as freelance makeup artists. Face-to-face courses are run part time, just one night or day per week, so students can fit their study in around their work or family commitments. We also run short courses for the hobbyist or just for personal interest.
Who is your ideal customer?
Our ideal customers are women who are looking for a part time side hustle or néw career to fit in with their work or family commitments. 
What advice do you have for aspiring entrepreneurs?
The biggest challenge you have is in your own thoughts. Lean into mentors who believe in you and have walked the walk before you and believe in yourself – believe it can be done! Calculate the risks then step out on faith and don't give up. Learn from your mistakes and those of others before you and change and pivot where needed but never give up!
What life experiences have helped you create your products or services?
Being a single mum of four kids has given me the life lessons to become creative and resilient in business. Having wonderful mentors in my life to lean on has also been instrumental in my success.
How can people connect with you (e.g website, social media channels, links to your business)?
You can connect with me via Facebook, Instagram and my website.
AMA celebrates its 21st birthday on April 4, reflecting over two decades of empowering and inspiring the women of Sydney to start their own business and take charge of their lives.
If you'd like to explore your passion for makeup, enrol in one of AMA's face-to-face or online courses today. Not sure which course is the right fit for you? Book a makeup discovery call with an AMA expert to figure out how to best start your business journey.