Ah, strawberries and cream, the perfect combination of fruity, tangy and sweet. When you're not sure if you're in the mood for sweet or sour, light or heavy, this is the only way to go.

Check out the following recipes to celebrate the day in your own kitchen;

1. Strawberries… with cream on them
This one is for all those who appreciate simplicity and tradition (or for those of you who just don't have the time to make anything else – we get it). Find the recipe here.

2. Strawberries and Cream Magic Bars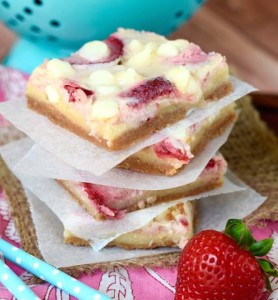 One of the more adventurous twists on the combination, we definitely want to give these ones a go. Think cookie base, fudgy filling, but then with a strawberry and cream topping. Yes, please. Get the recipe from the blog we can't stop scrolling through here.

3. Roasted Strawberries and Cream Popsicles

Perfect for when the weather starts to get hot, this recipe is a great way to keep the cool treats (slightly) healthier. The recipe is also vegan and dairy free, but with substitution instructions to help you vary them how you like. We're picturing ourselves enjoying this one outside, possibly simultaneously relaxing on a hammock? Mmmm.

4. Gluten Free Strawberries and Cream Cake

Another recipe to add to your collection of gluten free treats. If the clouds were to open up and in a ray of light, a hand appeared – this is what it would be holding. Yum. Get the recipe here.

5. Strawberry and Cream Tarts

With only 5 ingredients, this recipe is one to bookmark and whip up next time you need to impress your dinner party guests. They're bite-sized and healthy – which means we can have twice as many, right?
Strawberry Cream Cheese Pie
Just to remind you of all of the best cooking your grandma ever did, we've saved one of the most mouth-watering recipes until last. The only way to make strawberries and cream better is to make it strawberries and cream cheese. In a pie. Here's the recipe for you.

So now all you have to do is take your pick! Or – pick them all.