Not all rags-to-riches stories have to be told by Oprah. Here are a few reasons to make your next voyage you're most luxurious yet.
Change your perspective.
Experiencing the world from a new and fresh perspective can inspire personal growth and development. Forking over some additional funds for a vay-kay can allow you to indulge in some extraordinary experiences, that simply can't be had anywhere else, to the absolute fullest extent. These memories are ultimately life changing and can stand the test of time.
Avoid the awkwardness.
It's slightly embarrassing to admit to your friends and family that, yes you are indeed staying in backpacker's accommodation despite the fact that no, you don't presently own a backpack. Indulging in high-end accommodation is far comfier, far more private and, let's be real, more likely to impress those you tell (insert bragging rights here). If you're keen to score some additional funds for such an occasion, you can suss out NOW FINANCE's personal loan interest rates online, in less than 3 minutes. Trust me, you'll spend more time tipping the bellhop.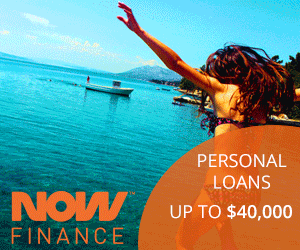 Avoid the feeling that you need a holiday after the holiday.
Ah the holidays finally over! Now it's time to take a week's rest before returning back to work, right? Not for those who travel in style!
Spending all your time in discomfort because you went overseas and decided to be a real miser about it, is really gonna hurt you in the long run. And really who wants to return to work, fall asleep at their desk, have their pen leak all over them and spend a week looking like a blue-tongued lizard? Yeah that'll help you score your next promotion…
Access all areas!
Those that pay more, see more! By injecting more finances into your overseas adventure, you can score the best tours, travel guides, show tickets, restaurant meals and even enjoy experiences closed off to the general public. How superior are your Instagram selfies gonna be now!

Get there faster!
If you ultimately spend just a fraction of the cost you should have on airfare, you may find yourself having to endure 27 different layovers, in countries you can't even pronounce the name of, before you reach your final destination. In-between, you may even have to bear a few donkey rides and economy seats so poor, they make you feel as though you're riding in cargo. This can all be very infuriating, particularly if you only have a limited about of time off from work and can't afford the additional delays. High-end airlines off better food, seating, entertainment options and are usually more direct. The same applies to taxis and pre-ordered airport transfers. Who wants to spend their holiday time slapping a donkey when they can ride around in comfortable climate control? While the big airlines can charge thousands more, it's worth flying over to NOW FINANCE for a quick online personal loan interest rate check. The rates are fair and can be cooked up in less time than an airplane meal.
Check your personalised rate in minutes!
Disclaimer: This editorial is of a general nature only and does not intent to provide any financial advice. CrowdINK's employees, representatives and associates do not endorse any product or service listed or advertised and does not warrant that the product or service is fit for its intended use, is accurate, of quality or value, or otherwise is appropriate in the circumstances. The user accepts sole responsibility and all risk for using the information. The user must exercise all necessary caution and investigate fully for themselves any product or service listed or advertised. CrowdINK does not accept any liability for any loss or damage whatsoever which may arise as a result of using this web site or any of the information.