Shelter Island is a teeny tiny island set between the North and South forks of Long Island, NY. You can only get there by ferry and this is the first summer that the North Ferry (out of Greenport, NY) uses a scanner on tickets instead of that old-fashioned handheld punch machine thing. With a population of 2,400 people as of 2010 and an average graduating class in the one high school on the island resting around 20 students, it doesn't exactly scream, "luxury, celebrity, and The Hamptons."
That's because it's not. Which is exactly why Manhattan-based socialites and the super-wealthy are driving their SUVs onto those ferries and anchoring in Coecles Harbor on their private yachts. Shelter Island is still relatively exclusive compared to the summer-swamped towns of Southampton, Westhampton, Hampton Bays, and East Hampton, if only because of its location. It also manages to balance catering to the more expensive tastes of celebrities and remaining accessible to the Islanders who live there year-round. Best of both worlds.
Here are our top 5 reasons that, super-wealthy or not, Shelter Island should be your next weekend getaway:
1. The Beach
The Hamptons are known for their beaches, but few make the hike from NYC all the way out to Shelter Island's idyllic white sand spots. Park yourself at Crescent Beach for loads of amenities like massages, rental paddle boards, and, of course, the Sunset Beach Hotel just across the road for cocktails. Another option is to head to Wade's Beach with your own picnic supplies to avoid the crowds. And don't forget: you're on an island! Bike, walk, or get a parking permit to stop at the end of virtually any street on the island and set up for the day.
2. The Golf 
There are not one, not two, but three golf courses on-island. Gardiner's Bay is a private, member-owned golf club that looks over Gardiner's Bay. With over 160 acres of natural terrain, it is an exclusive experience. Goat Hill is a public, nine-hole golf course that also has a damn good bar and restaurant which, conveniently, is the beginning and end of your game. Finally, let us not forget The Whale's Tale. Ice cream, arcade games, the most absurd collection of statues you've come across in a while, and putt-putt. Now, that is my kind of golf. But to each their own.
3. The Sunset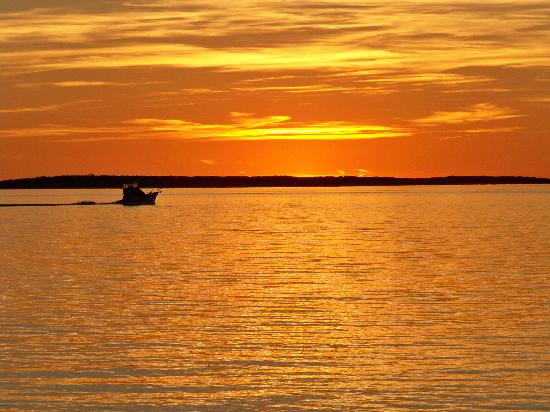 From Hawaii to Cadillac Mountain to the Gold Coast in Australia, call me biased, but there really aren't any sunsets like Shelter Island sunsets. And if your stay lasts more than a single night, you're going to get a totally different experience each time that orb hits the water. Violent oranges, highlighter pinks, and deep navy on Friday night might give way to muted pastels fading to black on Saturday. And if you're coming in from the City, keep looking up after the show is over. If you can get out to Ram Island Drive on the northeast side of the island, you could spend the whole night counting the stars. It's genuinely magical.
4. The Kayaking. The Canoeing. The Paddleboarding. 
You. Are. On. An. Island. Whether you tote your own gear out and pull up to the end of a street or stop over at Shelter Island Kayak – for the love of all that is holy – get in the water. You do not have to be an extreme sports nut or in the best shape of your life to have a great day out. There are so many little inlets and harbors around that it's pretty easy to find somewhere new to explore.
5. The Food and The Drink
You are spoiled for choice when it comes to places to eat, drink, and be merry on-island. Personal pick? SALT, where "locals are treated like celebrities and celebrities are treated like locals," in the words of co-owner, Keith Bavaro. From standards done right (that Lobster Roll is everything) to inventive, moderately-priced specials (Tuna Poke Tacos in lettuce wraps anyone?), SALT's got something for even the fussiest of diners. The Whale Killer is dangerous, the Harelegger Punch has a great story, and that Jalapeno Margarita is going to put some hair on your chest (it's worth every tweeze.) Don't miss Commander Cody's for laid-back comfort food fresh off the boat, served next to the best ribs on the East Coast. It's also a fish market if you'd rather cook at home. The Pridwin Hotel is our pick for Wednesday night during the summer season. Their cookout starts at 6pm, with bands kicking off around 8pm and that buffet is legendary. There's a bunch of places that do fancy brunches, but if you can get a stool at The Pharmacy, who would choose mimosas over a bacon, egg, and cheese with a chocolate shake?
Bonus: It's Not the Hamptons
In short, Shelter Island is the Hamptons that those of us who grew up in the Hamptons get off-season, even during the summer. Yes, it's possible you wind up doing a shot ski with Jimmy Fallon or bumping into Brooke Shields while picking up groceries at the IGA. Yes, the music, views, food, drink, and accommodation is 5-star. But there's no fuss. And the VIP lists are just as likely to include Ferry Captains as it is A-Listers. Shelter Island is slow. The speed limit is max 35mph island-wide and that crosses right over into the brainspaces of visitors while taking meandering strolls through Mashomack Preserve and losing track of the hours while dredging up clams off back-street docks.
Get to Shelter Island. And do the Hamptons on Island Time.