Stuck for things to do or places to go in the middle of winter in Melbourne? Here are five places in Melbourne that you can check out, visit, and explore while avoiding those endless cold and rainy days.
The Melbourne museum has something to offer for everyone, from temporary exhibitions, to an indoor rainforest, to the IMAX theatre. So whether you're in the mood to learn about history and culture, or to relax and unwind in front of the big screen, the Melbourne Museum is the best place to be on a cold rainy day in Melbourne. With the exception of Good Friday and Christmas Day, it is open seven days a week from 10am to 5pm, so there should be no excuses for why you can't make your way down there.
Located in the heart of Melbourne by the banks of the Yarra River, the SEA LIFE Melbourne Aquarium is a great destination to visit during the winter months, especially for those of you who can't get enough of the beach or the ocean. There are hundreds of things to see and do at the aquarium including the crocodile's lair, rainforest adventure, and mermaid garden. It is open to the public from 9:30am to 6pm daily and offers a 10% discount when you purchase your ticket online. A perfect day out surrounded by the ocean without getting soaking wet!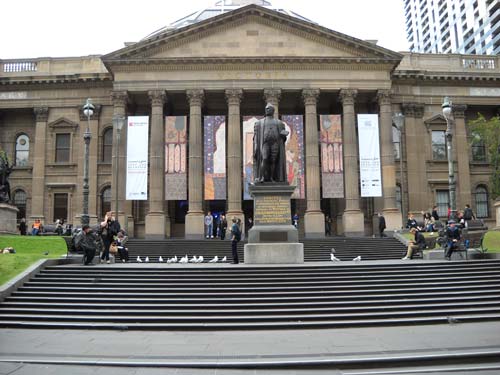 The State Library of Victoria is a great place to visit on a rainy day, especially if you enjoy reading, writing, and researching! Discover the library by taking the 360 virtual tour, explore the historical buildings at your own pace, or choose from the endless range of free exhibitions such as The Changing Face of Victoria. Hop on to the website for a further overview of events and things to do.
Scienceworks is a great place to visit if you love biology, physics, sports, and all things science. Although it is a popular destination for children and school excursions, adults can have just as much fun discovering and learning about modern science. Scienceworks has many models and displays that allow a more "hands-on" and interactive approach. It is open daily from 10am to 4:30pm and is conveniently located near the Spotswood train station, only twenty minutes from Flinders Street Station.
The Emporium Melbourne is one of the top modern and classy shopping destinations in Melbourne and brings you great comfort and retail therapy on a dull rainy day. With more than 100 stores to shop at and 30 unique food places to choose from, The Emporium is literally the new heart and soul of Melbourne's CBD. It is also conveniently connected to the Melbourne Central shopping centre and both department stores, Myer and David Jones. The Emporium is the perfect place to visit for those of you who have a love for fashion, beauty, art, and culture.
What other places have you visited to avoid a rainy day in Melbourne?
Do you like Melbourne or Sydney?