Tinni the dog and Sniffer the Fox
This beautiful bond is about as close to The Fox and the Hound as we'll get. The delightful duo formed a bond when Tinni and owner Torgeir discovered the fox. Now, the fox and pooch spend their days playing and exploring the forests of Norway.
Mabel the Chicken and her Puppies
While the puppies are long grown up now and couldn't nearly fit under Mabel's stomach anymore, as pups, the friendly hen was eager to adopt the small litter. Mabel happily took on the puppies as her own, keeping them snuggled underneath her while they slept.
Suryia the Orangutan and Roscoe the Dog
The pair were inseparable after meeting at an animal reserve, forming an unlikely bond that would make headlines around the world. The friendship has also inspired a book, detailing their strange bond at their reserve in South Carolina.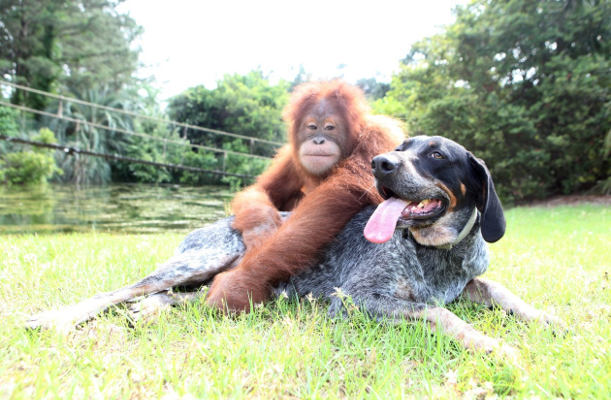 Baloo, Leo and Shere Khan
This lion, tiger and bear are the only combination like theirs to share an enclosure together. All were brought in together after being discovered in critical condition. And after growing up, the trio, known as BLT, remained in the same enclosure forming a close friendship.