CrowdInk writer Chau Nguyen first discovered Hobspot and out of interest began a series of emails between co-founders Alfonso, Sam and Gustavo, leading up to this interview that discusses the best next thing to come to connecting people through hobbies and everything else in-between.
CrowdINK: Tell me a bit about yourselves, what you're doing and how it's led to the creation of Hobspot App.
Alfonso: The initial idea and creation of the app funnily enough generated from mutual interests. Myself, and another co-founder Sam met through a mutual friend during Oktoberfest. Sam walked into our group and he happened to be wearing a basketball jersey. Me being a basketball fan, I started speaking to Sam right off the bat and we really got along. It was basketball that gave me the push to go and speak to him. I wanted to know his history with the sport and we ended up connecting really well, establishing the fact that we had more in common than first figured. With sports also came the love of entrepreneurship and mobile applications. 14 months later here we are. It is the sole purpose of what Hobspot does the reason why we are doing this interview today.
We then recruited our third and technical Co-founder Gustavo. He has been an integral part of the team, not only with his coding skills but also his mindset and the ideas he has brought to Hobspot.
CrowdINK: What interests you about social media and being connected with others?
Sam: The tech world is a fast-paced and innovative industry that is rapidly changing and evolving, so what's hot one week might be cold the next. It provides one of the greatest testing grounds for developers to think creatively and utilise an outside the box mindset to come up with the next Facebook or Tinder that can be in the hands of the world almost instantaneously after its launched. This process/mindset must remain evident in the business every day because updates and app enhancements are the only way to stay trending and not become an afterthought.
Another interesting thing about social media is the fact we went through a stage where people could not go 30 minutes without looking at their social media accounts, and I'm sure is still the case for hundreds of millions today. It all started from wanting to connect with people we know or once knew, and then evolved in the visual media platforms we see today with everyone sharing photos and videos of everyday life. It just seems the possibilities are endless when thinking about ways we can stay connected with people we know and people we don't know. So to be a part of the movement aimed at adding value and making people's lives easier is very exciting for us.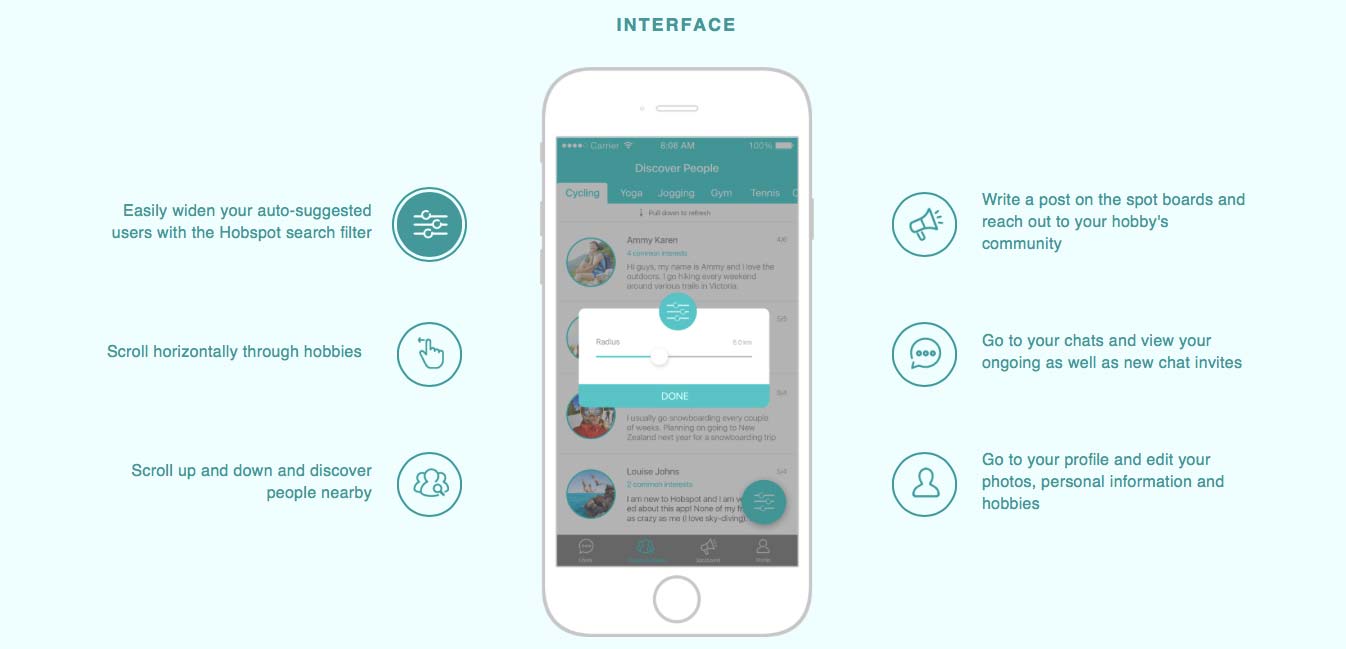 CrowdINK: What would be the inspiration and motivations behind the humble beginnings of Hobspot? 
Sam: We want to use social media in order to add value to people's lives. There are a lot of social media platforms that allow you to stay connected with people you know. We thought that perhaps people are also looking to meet new people as well and if we can match them based on their hobbies and interests, I think we can find that some people that perhaps were not fans of social media can change their minds.
With the growing rate of globalisation and people moving state-to-state and country-to-country we thought that maybe there was a way to eliminate that initial time a person moving to a new country spent staring at the roof before they make a friend or two. Hobspot allows our users to instantaneously connect with each other, with the general idea aimed at bringing a motivating purpose to social media. We want to get people to go online to get offline and continue or start doing the things they love with new people who have that like-minded interest.
We want to show the world that every connection is a potential opportunity for not only a friend but also a chance to grow their network and fuel that creativity and innovation you get when making new friendships. I mean, look at our story.
CrowdINK: You mention that one of your key areas you wanted to focus on for Hobspot is to garner a healthy lifestyle for your users – what's your ideal vision of a healthy lifestyle? 
Alfonso: We believe that a healthy lifestyle should be both physically and mentally. Engaging in physical exercise is really good for you as we all know but mental health is just as important. We believe that when people are doing things that they really enjoy and are socialising at the same time, it gives them the opportunity to stimulate not only their physical health but also their mental health.
CrowdINK: With that lifestyle, what is your target audience? And if only local, do you plan on going international? 
Sam: Our target audience is simply anyone who is 18+ that has a hobby or is interested in a hobby. You might currently play tennis but want to start kayaking for example. In some cases, you just moved interstate or you are new to Australia and want to make new friends. Whatever your hobby may be, Hobspot is a platform that allows you to connect with people that love what you love. You might simply be after some tips and advice. You can use Hobspot and reach out to your hobbies community and get real people helping you out. Or all of a sudden you want to start mountain biking and need to find a crew to go with. The key here is for people to stay connected to their hobbies community.
Our initial strategy is to launch in Australia, but we really want to focus in growing the brand in Melbourne as it's one of the most multicultural places in the world and would provide a very good testing ground being the home of sport and arts in Australia. From there, we will expand nationally and as the active users grow around Australia and once we are satisfied with the direction of the app and the product in the market, we will begin planning a global launch.
CrowdINK: If you had to compare Hobspot to another app in terms of concept, which app and why – it reminds me of a healthy lifestyle Tinder!
Alfonso: Its actually quite funny because whenever we tell someone about the app that's usually what you hear, "Tinder for hobbies". It's definitely a pretty cool comparison given that Tinder has found a great and easy way to match people that want to date. We think they have done a great job. Hopefully, with our app, we can cater people's needs for making friendships just how Tinder has done for others wanting to date.
CrowdINK: Your aim for the App (and yourselves) for the end of 2016 and for the beginning of 2017?
Alfonso: Our biggest aim at the moment is to launch Hobspot and put it in people's hands. We will be very focused on having a very close relationship with our community and listening to everything they have to say about the app. As many in this industry know, the users are the ones who shape the product and we have the right processes in place to get all that feedback from our users. Hopefully, we can start seeing people's lives change soon after we launch. I think that is our biggest aim at the moment. To start seeing the positive impact Hobspot is making on our users.
CrowdINK: And finally, your favourite social media apps to use as a guilty pleasure?
Alfonso: Sam and Gustavo like to use Facebook. Me on the other hand, I don't use Facebook. I am more of an Instagram guy. I mainly use it to follow other people I would say. If you go on my personal page, you won't be seeing any recent posts. I use messaging apps a lot, like Telegram and Slack. Hobspot on the other hand, I will use a lot. Not just because I own part of it, but because I have a lot of hobbies and always starting new ones. I just started getting into mountain biking and I am really excited about it. I can't wait for the app to launch so I can start interacting with that community.
Visit Hobspot's official website here to learn more about the App and be apart of a growing App that will hopefully take Australia, and the world, by storm.