If you thought the experts were putting it lightly when they said organisations need to connect on a more personal level with their audience – they weren't. Thousands of companies are already chatting one-on-one with their market. Luckily, Facebook have made it a lot easier than it sounds with their newest development: Messenger Platform, aka their Messenger Bots.
What are Facebook Messenger Bots?
Messenger Platform has been designed for businesses and developers to provide them with a means to access and appeal to Facebook Messengers 1 billion-odd users with a personalised and interactive communication tool. They're typically powered by artificial intelligence, but they need a lot of programming from humans.
Users will already be on the app, so there's no need for them to fill up their precious phone memory by installing a new one. They can access a range of services (such as ordering meals, booking flights, or buying clothes) just by sending a few short messages.
What does it mean for marketers?
CNN reported that users of their Messenger Bots typically dwell in the chat for around two minutes, which isn't a bad average considering our ever-shortening attention spans. Reviews on different Messenger Bots have shown that the more 'human' or advanced the bot is, the more positive the response from the user.
The differentiating aspect of this marketing tool will be its ability to intuit what the consumer wants. We don't want to feel like we're talking to an automated voice – we want something that knows us. It's the ultimate level of communication with the individual, so if it's not tailored to us, then what's the point?
Here we've got some of the best examples of how savvy businesses are using the bot technology to reimagine the consumer experience:
Pizza Hut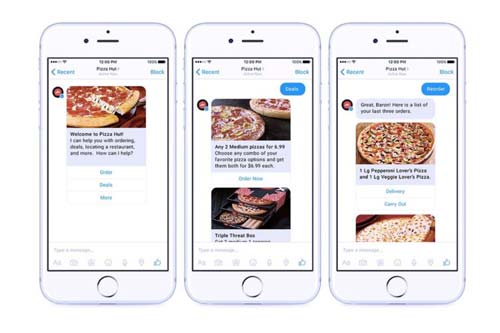 Just when we thought they couldn't make fast food any faster. Pizza Hut uses location-based technology so that you're chatting to nearby reps. It also remembers your favourite orders and offers you specials that are tailored to you and your area. Send a few Facebook messages and a pizza arrives at your door; it really doesn't get any easier than that. Why do you do this to us, Pizza Hut? (Don't worry, we like it).
Whole Foods
On the healthier side of things, Whole Foods have made a bot that will help you use up whichever ingredients you have left in the fridge. Simply send a message with food-related emojis, and it will send you back a recipe with those ingredients. Or, you can just type in your own ingredient, recipe request, or cuisine preference, and it will respond accordingly. It sounds like the ultimate kitchen buddy to us.
Domain
One of the first messenger bots in the field of real estate, the Domain Australia bot offers a wealth of property data, giving you access to information on listings and prices in the area of your choosing. All you need to do is drop a location pin in your desired neighbourhood, and then everything else is at your fingertips.
The developers at Facebook have made it easy to make your own messenger bot, and you can follow their instructions here to get started on your next clever marketing move. Or, if you want a bit of help and want to avoid any coding business, you can use a tool such as botsify.
If you're looking to use a messenger bot yourself, the best way to find one is by typing the name of a business into the search bar at the top of the app. Another option is to head onto botlist.co, which is like an app store for messenger bots.