CROWDINK MAGAZINE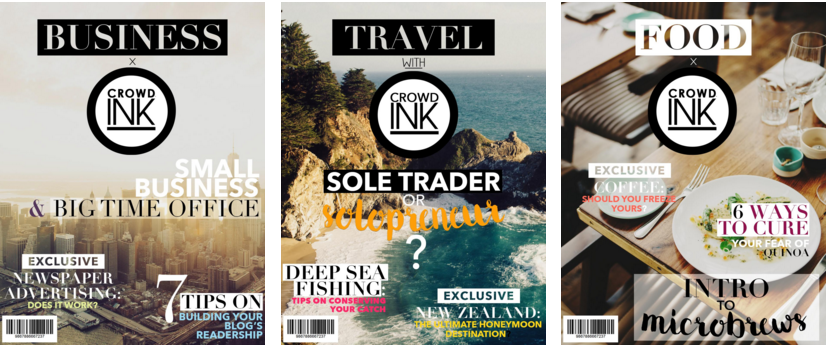 Grab your copy of CrowdInk Digital Magazine for $1 (promotion ending 29th Feb).
CrowdInk Magazine was founded on the idea that uplifting stories want to be shared and circulated. The magazine is a quarterly print and digital version of the very best of CrowdInk, fused with exclusive content that our writers have been hoarding away all quarter.
CrowdInk Magazine covers Travel, Food, and Business in a fresh, authentic format our readers can't seem to find anywhere else.
In a new written world filled with the "5 Parisian Shops That Every Tourist Has Queued in," our writers bring you the "5 Boulangeries That Are Worth a 15,000 Mile Plane Ride."
With other magazines releasing the "Top 3 Food Trends of 2015," our writers wax poetic on the "3 Times Thyme Brought My Whole Family to the Table."
And where typical financial reviews give you, "How One Entrepreneur is Changing the Internet Market," CrowdInk hands you, "The 4 Words Every Idea Needs to Become Profit," written by a leader in the field, not just signed by a big name.
Simply fill in the form below to subscribe to our mailing list.
Purchase Your Print Magazines

Purchase Your Digital Magazines
RRP 9.95 Promo $1

Crowd Ink Business $29.95

[wp_cart_button name="Crowd Ink Business Magazine" price="29.95″]

Crowd Ink Business $1.00

[wp_cart_button name="Crowd Ink Business Digital Magazine" price="1.00″]

Crowd Ink Travel $29.95

[wp_cart_button name="Crowd Ink Travel Magazine" price="29.95″]

Crowd Ink Travel $1.00

[wp_cart_button name="Crowd Ink Travel Digital Magazine" price="1.00″]

Crowd Ink Food $29.95

[wp_cart_button name="Crowd Ink Food Magazine" price="29.95″]

Crowd Ink Food $1.00

[wp_cart_button name="Crowd Ink Food Digital Magazine" price="1.00″]

[show_wp_shopping_cart]