Why go sugar-free when you can have high tea?
Vegan food may be widely available in Melbourne, but vegan high tea is virtually unheard of. Imagine my surprise (and utter delight) when I discovered that Mamor Chocolates offers just that – a 3-course vegan high tea!
Mamor owner and pastry chef, Janet McKenzie, says she introduced the vegan menu because she didn't want to exclude anyone from the social, indulgent high tea experience, simply due to dietary restrictions.
Our lovely host Cindy, presented the first course on a two-tiered stand: the bottom layer featured smashed chickpea and beetroot pies and pickled slaw sandwiches with roasted zucchinis, while parmesan shortbreads with capsicum jam lay on top. The pies were the standout item – pairing legumes and beetroot with a buttery crust made a most flavourful combination.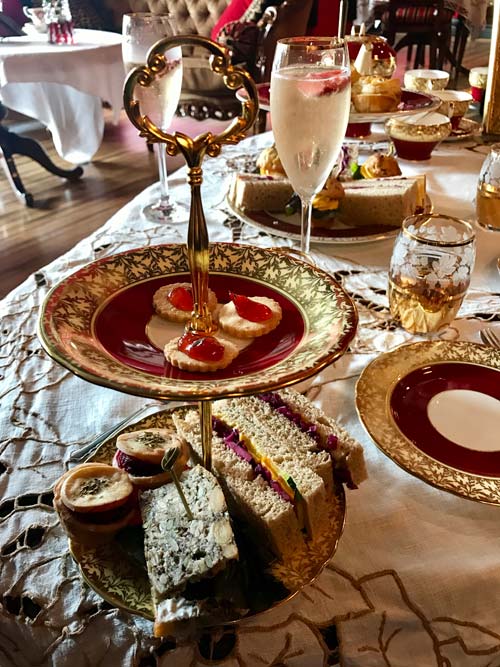 Next up were scones (made with lemonade, thus super light and fluffy!) with vegan clotted cream and a selection of jams made in-house, and peanut caramel and pistachio macarons. To replace egg whites, the macaron shells were made with aquafaba, aka the liquid in canned chickpeas! Simply brilliant!
I sipped on some refreshing house-made chocolate peppermint black tea between courses to clear my palate and found that the mintiness helped tremendously with my digestion.
For dessert, I had a hazelnut rocher covered with cacao paste, carrot cake with vegan cream cheese dressing and, served in a quaint little dessert cup, dark chocolate crème patissiere with a strawberry compote base.
Vegan desserts are usually a hit or miss – at Mamor, it's a huge hit! That, and the impeccable service, makes this cosy joint one of my new favourite dining spots in Melbourne.