I Love Pho owner Emma Nguyen is passionate about introducing people to the most authentic Vietnamese cuisine and expanding their horizons. Born in the North of Vietnam but brought up primarily in the bustling South, Emma's food varies regionally and the difference can be tasted in each dish. While the North has less sugar, and features more natural, fresh dishes, the Southern style cuisines is inspired by the neighbouring Asian countries and stands out for its bold flavour, spices, herbs and some sweeter dishes.
Here are some fun facts to share with your friends over a bowl of pho!
Pho – Phở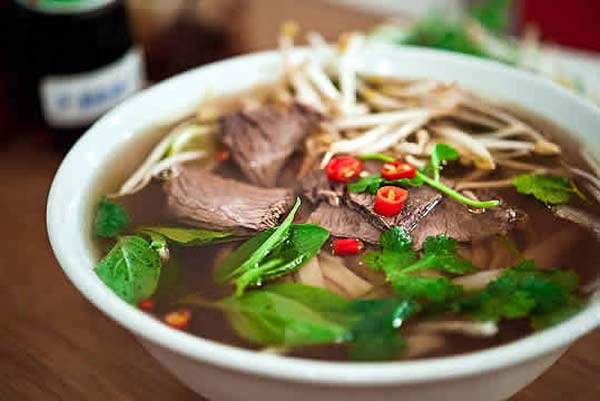 Though Vietnam has history spanning thousands of years, Pho is a relatively new dish dating back only a little over a hundred years ago at the beginning of the 20th century. The origins of arguably Vietnam's most famous dish, come from Hanoi in the north. Commonly mispronounced like 'go,' pho actually rhymes with 'duh.' Pho has over 40 varieties across Vietnam! Each bowl of Pho is differentiated by the broth, type of meat and type of noodle used.
Fresh Rolls – Gỏi cuốn
Hailing originally from Southern Vietnam, fresh rolls are commonly made with pork, prawn, fresh, raw vegetables and vermicelli noodles wrapped in rice paper. Translating literally to 'salad rolls,' these delicious Vietnamese rolls are also known as summer rolls, soft rolls, crystal rolls or cold rolls on menus around the world.
Vietnamese Crispy Pancakes – Bánh xèo
Named for the sound the rice batter makes when it hits a hot skillet, 'sizzling cakes,' are a savoury pancake stuffed with fatty pork, shrimp, diced green onion and bean sprouts. The crispy crepe-like pancake gets it's yellow colour not from egg, but the spice turmeric. While the central Vietnamese versions skip the turmeric, southern style pancakes add coconut milk for sweetness.
'Shaking Beef' – Bò Lúc Lắc
Shaking beef, a cubed meat dish, gets its name from a play on the Vietnamese word for playing dice, Hột Xúc Xắc because of it's small square shape. The sauce used for the shaking beef at I Love Pho is a secret recipe created by the chef! It has all the authentic flavors with some tasty upgrades!
Prawn Paste Wrapped around Sugar Cane – Chạo tôm
Hailing from the Huế region of central Vietnam also known as the Citadel of Vietnam, this dish get its unique flavour by grilling the ground shrimp on a sugar cane rather than skewer. This special step is inherited from Vietnam's royal life during the golden time. Using the sugar cane adds a gentle sweetness and flavour to the dish. Served commonly with a salad of bean sprouts, crushed peanuts, carrot and mint, this is great fresh alternative to regular ole' satay.