CrowdInk had the chance to sit down (virtually) with Mark Hawthorne, CEO of Guzman y Gomez. He talks about why Guzman y Gomez are definitely a "fast food" restaurant and how they're re-defining what that means. He also talks about Mision Mexico, a charity run by two Aussies to house, care for, and educate over 50 Mexican children a year and Free Burrito Day (that's exactly what you think it is.)
CrowdInk: Where does Guzman y Gomez source its ingredients?
Mark Hawthorne: We source our ingredients locally from Aussie farmers and suppliers and we work closely with them to ensure we get the best whole, fresh produce. As part of our movement to clean up fast food, it's important to us that we collaborate and support our local suppliers so that together, we can deliver quality food at scale. Rather than seeing them as third party suppliers, we consider them our extended Guzman y Gomez family.
CI: How is Guzman y Gomez encouraging a shift in thinking about fast food — even outside of their own business with other "big players" in the industry?
MH: Everybody wants to get out of fast food, but we are proud to be in it to drive change within the category.
We are showing the fast food industry that it's possible to serve fresh, made-to-order, nutritious food without compromising on speed.
Unlike traditional fast food players, we have no microwaves or freezers and our food is prepared using fresh, whole produce and authentic ingredients.
Fast food has a bad reputation and we want to change this. We want the industry to see that it is possible to serve real, quality, clean food at fast food pace and at scale. We want to push the entire category forward.
CI: With 70 taquerias across Australia, are there plans to expand internationally?
MH: Certainly. We opened our first taqueria outside of Australia in Singapore in 2013 and have since added three more including one in Tokyo. We have big plans to continue Guzman y Gomez's international expansion and we'll be sharing more news on this front in 2016 — watch this space!
CI: We also heard of "Free Burrito Day" and "Mision Mexico." Can you elaborate a bit on what those campaigns are?
MH: Every time we open a new Guzman y Gomez, we hold a Free Burrito Day to invite everyone over to enjoy a delicious burrito. We like the idea of welcoming people, sharing good times, and getting to know everyone. Every Free Burrito Day is always a huge success. We have a record of more than 6,000 burritos served during a Free Burrito Day — that's a lot of new friends.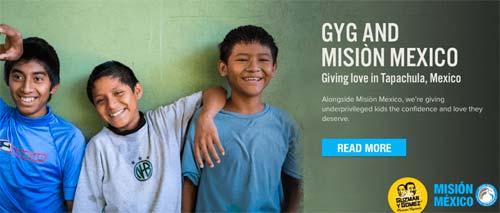 We are passionate about all things Mexico and we wanted to give something back to Mexicans. Since we met with Pam and Alan Skuse, the amazing Australian couple who founded Mision Mexico, we knew we wanted to join their cause. Mision Mexico is a children's refuge established and run by the Skuses, in Tapachula, Mexico. Pam and Alan house, care, and educate approximately 50 children a year. Most of the kids come to Mision Mexico having suffered emotional and physical abuse and neglect. With Mision Mexico's help, some of the children under their care have gone on to become doctors — the work they do is truly remarkable!
At Guzman y Gomez, we raise money for them from collection boxes in taquerias and an annual fundraiser fiesta that we hold in Sydney.
Find out more about Misión México here.