I launched my business, MJ Driver Laser Co., seven years ago during a time when the only place to receive laser tattoo removal treatment was a medical centre, from doctors who didn't know a thing about tattoos. I opened my first clinnic in a Brisbane tattoo shop and before long, I had clients flying in for laser tattoo removal from Sydney and Melbourne and it was apparent that we'd need to expand interstate. My team and I now offer treatment across six locations within Australia.
A lot of my success and growth as a small business owner has come down to social media – in particular, Instagram. It's my number one referrer of traffic to my website and in an industry that relies so heavily on reputation and trust, having a strong social media following has provided me with the foundation of social proof and accountability imperative to running a successful business.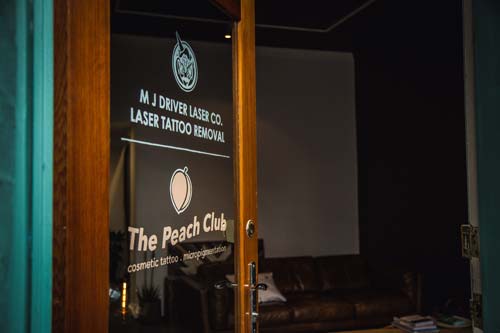 Over the last seven years, the main thing I've learned through marketing my own business is that unfortunately, there's no easy way to grow an organic Instagram following. It takes a lot of hard work, listening to your audience and figuring out what works for you. Whilst all businesses are different, there are a few things I've learned that I believe all small business owners can apply to their own social media strategies to help grow their audiences.
Firstly, figure out what makes you unique. 
What sets you apart from your competitors? For me, this was being one of the first laser tattoo removal clinicians to set up in a tattoo shop. Providing tattoo enthusiasts a place to receive treatment in an environment that they felt comfortable in was what made me stand out in the beginning, and I was able to attract new customers by communicating that point through my social channels.
When you find what makes you unique, and you share your story authentically with your audience, you'll attract people to you who want to be a part of what you do. There are plenty of fake people, copycats and people too lazy to develop their own brand voice and content on Instagram. Being unique in what you do, and authentic in the way you communicate is refreshing.
Secondly, pay attention to what your audience enjoys.
For me, this has been shock value. When I have a really crazy tattoo to remove, or have to perform laser in a painful place, people go nuts! And the best part? My website traffic spikes when my social media posts get more likes.
The lesson here is that there's no point posting things that people don't want to see, just because you think that it's "on brand" or will look good in your profile. If you don't have anything to share that people will like, don't post anything at all until you have something worthwhile occupying space! It only takes one lousy post to lose a whole lot of followers, and at the same time, one awesome post can reach a bunch of people outside of your regular audience and earn you new followers. Discover what your tribe loves and dish it out to them.
Lastly, don't forget about you influencers
Every industry has it's own set of influencers, who are waiting for you to connect. If you've got something you can offer in exchange for exposure, go for it! Sponsored posts from individuals with large followings used to feel a bit shameful, but it truly is an effective and modern way to advertise your product or services to a large, engaged audience.
You'll know the point at which sponsored posts will make you feel uncomfortable. For example, I made the decision not to pay people to come and receive laser removal with us, but rather offer services in exchange for exposure. For me, paying people to have a tattoo removed feels too forced but offering free removal in exchange for sharing their experience does not. It's as simple as that.
If you've got anything to add, leave a comment below!