Bad news. The end is coming. The end of Summer, that is.
If you're like me and live for the sun, dreading Winter's pessimistic gloom and constant cloud cover then you need to do as I do and make the most of these final, fleeting weekends of summer sunshine.
Here are my top five Victorian locations for summer-loving- camping-try- hards to get you just far enough out of town that it feels like you're out of town but you're really not that far out of town after all.
1. Wilson's Prom
A classic choice, the prom is perfect for hiking lovers and hiking haters alike. If all you want is to lay on a beach and swim in one of the most beautiful beaches in Aus, then the Prom is for you. If you love hiking and sight-seeing, then what better way to spend your final days of sunshine? Beware of the treacherous wombats however. They'll gnaw through most things.
2. St Andrews Beach, Rye
The Mornington Peninsula is home to an array of stunning beaches and has a distinct lazy, holiday feel that makes it feel like it is worlds away from Melbourne, rather than a mere 45-minute car ride. There are also beautiful cafes and eateries in the region if you don't want to go full camper but just a little bit camper. I would recommend Dee's Kitchen in neighbouring town Dromana.
3. The Great Ocean Road
Sure it's touristy, but for flamin' good reason. The Great Ocean Road spans from Torquay to Allansford and is truly breathtaking. It's also kind of 'queeze' inducing if you're susceptible to car sickness, but don't let that stop you. Be sure to visit the Californian Redwood Forest, a secret destination an hour out of Lorne that is literally like a setting from Twilight, minus the Vampires and Werewolves.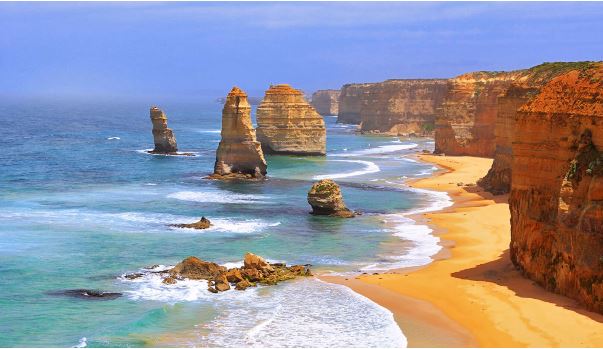 4. Lorne
Following on from TGOR, make sure you take time off in Lorne. Complete with a chilled Noosa vibe, nifty knick knack shops and range of tasty food options, Lorne is a ripper place to kinda-camp and stay for a summer-y weekend.
5. The Grampians
Okay so maybe you want to be a little bit interested in camping before you take on this one.
It is definitely one for the hikers and home to some of the most magical scenery Vic has to offer, if you want to challenge yourself then there is no better place to forget your worries and work up a sweat.
Make the most of these final rays of Summer guys and get out there!