Before you know it, you've had kids and you're making trains out of cucumbers and monster faces on top of jam toast. While that is cute and fun, are we (literally) creating a monster here?  Not long after that, they refuse to eat the dinner you carefully crafted, they notice the microscopic bit of green onion on the plate. Then they start ordering what they will and what they won't eat for dinner.  But what if there's no choice?  What if they just ate what we ate?  You see, I have a theory that WE are part of the notorious problem that parents face with picky eaters.
The issue is always going to be there.  In some ways it's just a part of kids stating their independence.  But how we deal with it might be causing further problems.  Most parents probably respond by either 1. Pushing the child to try a certain food until a big scene is made, (sometimes even ending in tears,) or 2. Just giving up and writing off that food forever.  I understand that it just seems easier sometimes to give kids what you know they will eat.  And who wants a nightly battle at the dinner table?
Here are some reasons why you should keep offering kids the food that you eat:
"Adult food" is actually real food. Trains and bears on toast are not.  That doesn't mean you can't do fun things like that and be creative with food.  Just not all the time – let them be familiar with what natural food looks like.
The earlier children can become open-minded about food, the easier it will be for them in the future.
It's good for them to have new experiences. Lots and lots of new things to explore, and on a regular basis.
Parents should not be giving children the message that they are their personal chefs, making only what they demand.
It's so nice to eat together around the table at family mealtimes and that includes sharing the same food. It's part of the experience.
Here are some ways you can successfully introduce this at your family dinner table:
Don't fight it. As soon as children feel they are being pushed, they will completely refuse to eat it anyway. Just keep politely offering at every meal in a non-pushy way.
Try new foods as often as you can, at every meal even.
Set an example. If they see you constantly trying new foods, then they will take notice. It will feel normal to them.
Always have one or two things you know they'll like. No one wants to see their child go to bed hungry. By having one or two items you know they will eat, they will not feel out of their comfort zone and you can relax knowing they will eat something.
Don't panic.  This is going to take some time!  But you can relax in the knowledge that you are showing kids how to eat a varied, healthy diet. These family values will stick with them forever.
3 recipes that both adults and kids love:
Mildly-Spiced Chicken Sheekh Kebabs
These gently spiced chicken kebabs are juicy and irresistible.  The addition of some chopped pistachio nuts helps make the chicken mince easier to work with and gives these Indian treats a lovely interesting texture and lovely flecks of green colour.  A great way to introduce kids to spices.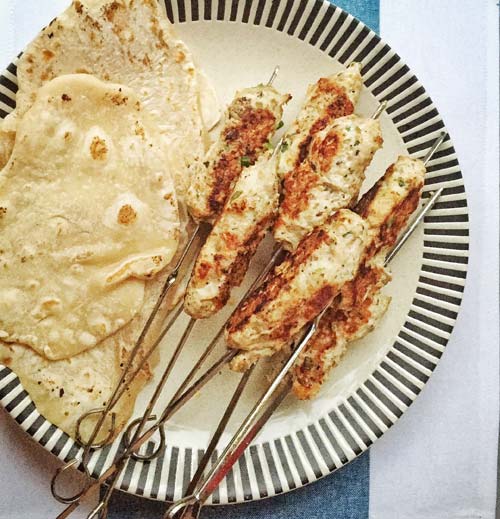 Ingredients:
500g chicken mince
1 clove garlic, minced
3/4 cup/70g breadcrumbs
1/3 cup/35g finely chopped pistachio nuts or pepitas (pumpkin seeds)
1 spring onion, finely chopped
small handful of mint leaves, chopped
1tsp salt
1tsp pepper
1tbsp ground coriander
1 tsp fennel seed
1tsp ground cumin
juice of half a lime
Instructions:
In a mixing bowl, combine all the ingredients and mix thoroughly by hand. Form into 8 small balls. Spear each ball onto a BBQ stick and then flatten each way, so a sausage shape is formed.
Heat the BBQ flat plate.  Spray the kebabs well with oil on all sides. Cook for around 10 minutes, turning every few minutes to another side. Serve with extra lime.
Sesame Pork Meatballs
Who doesn't love a meatball?  These have a lovely nutty note from the sesame and go great with Asian noodles and fresh herbs or alongside a vegetable stir-fry and rice.
Ingredients:
500g/1lb ground pork
2 spring onions, finely chopped
2 cloves garlic, crushed
30g/1/3 cup bread crumbs
1 egg
1 tbsp worcestershire sauce
1 tbsp light soy sauce
1 tsp sesame oil
2 tsp sesame seeds
1/2 tsp pepper
Instructions:
Heat the oven to 180c/350f. In a large mixing bowl, add all of the ingredients and mix well by hand. Form into meatballs that are about he size of a quail's egg.
Heat a large frying pan and add just enough olive oil to lightly coat the pan. Brown for around 3 minutes a side then place the pan into the oven. Cook for 10-12 more minutes and check that the meatballs are cooked through. Garnish with sesame seeds.
Best Salmon Fishcakes
My fishcake recipe has been slowly perfected over the years.  A few delicious tricks such as using both smoked and fresh salmon, and both white and sweet potato give these a real wow factor. They have a nice chunky texture and a crispy coating of Panko breadcrumbs.  Eat with lots of fresh lemon.
Ingredients:
250g fresh salmon
150g smoked salmon
200g/1 large baked potato (cooked)
70g/1/2 a large sweet potato (cooked)
2 spring onions, finely chopped
1 tbsp capers, chopped
small bunch dill, chopped
Grated zest of 1/4 a lemon.
35g/1/3 cup freshly grated parmesan
1 cup/100g Panko breadcrumbs
Sea Salt and Black pepper
Instructions:
Take the filling out of the potatoes and place into a large bowl.  Roughly mash with a fork but leave some chunks. Take the skin off the salmon and cut into cubes.  Also cut the smoked salmon into cubes.  Add into the bowl. Add the onions, dill, capers, lemon zest and half the parmesan. Salt and pepper generously. Mix well with hands and form into evenly shaped balls.  Pack down tightly. Place the breadcrumbs and remaining parmesan onto a plate and mix. Roll the fishcakes in the breadcrumbs, making sure to coat each side as much as possible.
Heat the oven to 180c/350f.  Heat a large oven-proof frying pan with the olive oil and the butter. Fry on one side for 5 minutes or until brown, then flip over. Place the frying pan in the oven for the fish cakes to cook through, about 15 more minutes.