Upcoming electronica/pop producer SONA will be launching her debut EP "Runaway" at The Workers Club on Saturday the 28th of October. A new musical project from Melbourne-based singer/songwriter Kelsie Rimmer, best known for her appearances on The Voice Australia in 2017, SONA is already making waves in the electronic music sphere with her unique vocals and floaty production, working with a range of producers and gaining international radio play.
SONA's debut self-produced EP features an ambient mixture of mesmerising electronic production, poetic lyrics and haunting vocals with subtle folk undertones. Already getting spun on Triple J Unearthed Radio, "Runaway" closely follows SONA's recent single "Already Gone", a collaboration performed with American producer OTR. The single has reached over 500,000 plays on Spotify since its release in June earlier this year, and has received rave reviews from This Song Slaps, Beautiful Buzz, Disco Belle and Dancing Astronaut.
Kelsie RimmerA contestant on The Voice Australia in 2017, Kelsie Rimmer performed as an acoustic/folk artist, making it to the Battle Rounds on Team Delta. But in the background, Kelsie has been developing her artistry and sound into an ambient electronic–folk fusion, independently recording, producing and releasing her new EP under the SONA project.
Embarking on a regional Victorian tour throughout September and October, Kelsie has been playing intimate shows to promote her new EP in regional areas such as Kyneton, Bridgewater, Marong and Daylesford, and will be finishing off her 12 date tour in Melbourne at The Workers Club in Fitzroy.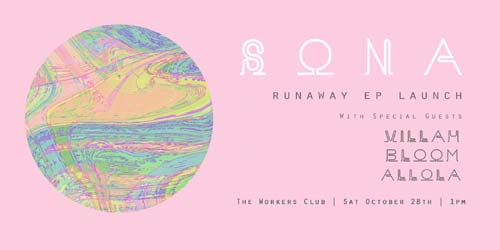 Sona EP Launch EventFeaturing an electric line up charged with girl power, SONA's EP launch will include guest performances from fellow local electronic artists VILLAH, BLOOM and ALLOLA, and is sure to be an atmospheric and mesmerising afternoon of live music.
For more information, visit the event page here.
What: SONA's 'Runaway' EP Launch
When: Saturday the 28th of October, 1pm.
Where: The Worker's Club, Fitzroy
Who: SONA with special guests VILLAH, BLOOM and ALLOLA.
Cost: $15 entry